Works of Art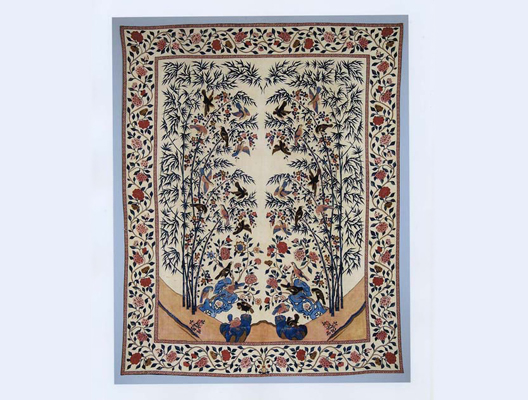 AN ANTIQUE BAMBOO TREE PALAMPORE
India (Coromandel coast for the European market)
circa 1775
A mordant-painted and resist-dyed cotton palampore with an unusual and elegant design of bamboo trees around which entwine stylised rose and peony bushes. The bamboo stalks and sinuous flowering plants emerge from irregularly shaped rocks in the chinoiserie style. Pierced, tumbling and precariously but artfully arranged, and painted light blue, they resemble the scholar's rocks so prized by Chinese literati. A variety of birds perch on and flutter amongst the bamboo stalks and flowering bushes, the gentle symmetry of their placement softened by asymmetrical juxtapositions of colour.
The tall, green bamboo stalks are planted on a sparsely indicated landscape that slopes upwards on the rocks to either side, and the bamboo leaves rustled by the wind. Twined around the bamboo plants are pink meandering vines, from which sprout small leaves and variegated floral sprigs, drawn as much from nature as from the imagination and combining, on fantastical composite bushes, an abundance of different flowers. The division of the bamboo grove into two symmetrical sections gives a vivid sense of a path through the bamboo grove, inviting the viewer to push the bamboo apart and walk through the idyllic scene.
Length 107 7/8in (274cm). Width 83 7/8in (213cm).
Reference: J6317